Imagine a place where you can realistically have sex approximately 50% of the nights you head out.
Imagine a place where you can talk to a girl from California, Oregon, Canada, China, Florida, Chicago, NYC, Brazil, Italy, France and Russia all on the same night.
Imagine a place where every single girl you meet is on vacation…and drunk.
Imagine a place where nobody has to drive anywhere.
Imagine a place where there are people partying 24 hours a day.
Imagine a place where a Tuesday night is the same as a Saturday night.
Imagine a place where indulging in your deepest and darkest pleasures is promoted… by the city itself.
I am referring to Las Vegas.  This weekend's trip reminded me again, as it always does, that Vegas is hands down the easiest place to have sex I've ever been to — and I've been all over America and to over 60 cities outside the US.  Any semblance of game and a willingness to put in a handful of approaches and any guy can have sex there.  I'm not exaggerating, it's that easy.  So why is it like this?
Logistics
Everyone is staying at a hotel nearby.  You are no more than a 10 minute cab ride from almost every hotel, and only a 2 minute walk to the cab line.  Plan correctly and you walk upstairs to your room and be there in 5 minutes.  Nobody has work the next morning.
Mentality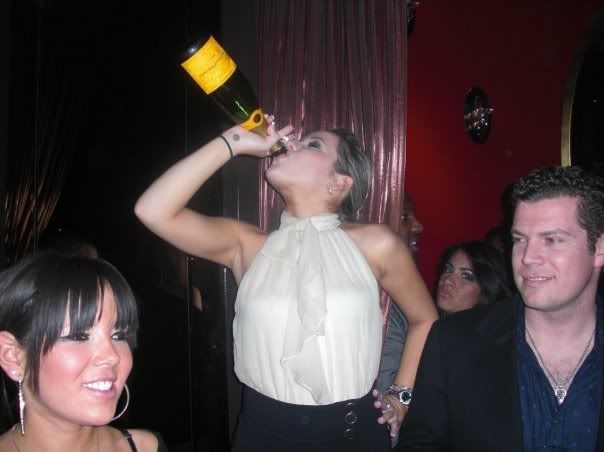 Absent the people working, everybody is here on vacation.  People fly in from as far away as Russia, and LA residents like myself may make a snap decision to take a quick 45 minute flight or drive 4 hours to party the weekend away.  Some even start drinking before they land in the state of Nevada.
What are girls on vacation like?  Slutty. Did I just sleep with that guy? Oh well, I'm on vacation!  I have a boyfriend?  It's okay, I'm on vacation!  These are the standard thoughts that go through a girl's mind whether she's vacationing in Costa Rica, Madrid or NYC.  As long as she's not in her home town there are less consequences for her actions.  Now take that and couple it with what has to be the single greatest public service announcement in history for single men…
"What happens in Vegas, stays in Vegas."
If I could thank one man in person for what he's done for society, it would be whoever the genius was that developed and marketed this slogan.  Let's really think about what this is saying.  Basically, whatever the fuck you do in this city, nobody will ever find out.  If your friends see you leaving with a random dude, it's supposed to "stay" in Vegas.  Secrets are not told.  You can act out your wildest fantasies be it blowing a dude in the bathroom of XS or getting gangbanged by some guys you just met in an elevator (true story).  Your friends, family and coworkers will be none the wiser on Monday morning when you return than they were on Friday when you left.
In fact, Vegas has updated their advertising to keep up with social media.  Now, girls are supposed to "know the code." Specifically, they are not allowed to post pictures, update their facebook or tweet about what is or has happened on their trip.  And you know what happens when you place girls in a consequent-free environment — they go fucking nuts.  Everyone knows Vegas is a free for all.  No consequences = no worry of being judged = no need to rationalize your actions.  Not only is she on vacation, but so is her hamster.
Opportunity
You can drink and party 24 hours a day in Vegas.  You can drink in public on the strip.  If you gamble you will drink for free while playing.  If you like clubs, you can literally go all day and all night.  Night club at 11pm, leave at 4am for afterhours, come back at 1pm and go to a pool party (summer) or day party/brunch (winter) and rinse and repeat.  I've seen people so drunk they have been escorted back to their hotels in wheelchairs at 3 in the afternoon.
Like white girls?  Asian girls?  Foreign girls?  Black girls?  They are all there.  There on business on a Tuesday?  No problem.  Those that fly in from further places tend to stay longer than just a weekend, so you will find a substantial amount of vacationing girls there on weekdays as well.  The opportunity is endless here.
Success Rate
You will succeed here.  Even average game has a high shot of success.  Take me for example – on my last 6 trips to Vegas, totaling 16 nights, I've had sex 8 of those nights.  On two other nights, I brought girls back who refused to have sex but we engaged in other shenanigans.  One girl even apologized to me, saying "I know this is Vegas and I'm supposed to be a slut and not care, but I just can't do it."  Obviously not every girl will turn into a raging whore, but even they admit they are supposed to be sluts.
And I'm not a male model by any means.  I have only been part of the "game" for a year and a half.  I'm not obscenely rich or famous.  It would take me over 100 nights in LA to have sex 8 of those nights.  In other words, Vegas is different.
They can't be that slutty, can they?
Yes they can.  Here are some real stories compiled from my own experience and/or friends' experiences:
Girl takes me to strip club and pays for my dances before going home with her
Go home with a 21-year-old who later admits she has a list for Vegas, which includes banging a guy over 30 (me).  Also on that list?  Have a threesome.  Spent the rest of the weekend trying to convince her friends to join, including the girl my friend banged and was sleeping in the bed next to us.  Sadly she was unsuccessful.
A girl meeting four guys in an elevator after a pool party (including my friend), inviting the guys in for a shot, and once there, she got on the bed and asked who's first.  A train proceeded to run for the next hour.
A Russian girl inviting my friend to lick her after she meets him on the elevator at 6am.
Friend spending 15 hours straight with two Russian girls and showering with them during his bachelor party.
Making out with a girl within 5 seconds of meeting her (this past Saturday).  End up taking her home while her sister (who was there with her boyfriend) goes home with my friend.
Friend's ex banging a random guy in the pool she just met.
I'm by no means saying you can fly to Vegas and have sex with models every night.  Sometimes you get cockblocked too (this past Friday for me).  But you can have sex fast and often.  Some will be hot, some will be cute and some will not (but hopefully you drank enough that you won't remember).  Some final tips:
Dress sharp.  I now wear only suits when I go out.  This weekend I wore a tie and pocket square and my results improved.
If you are in good shape hit the pool parties.
Approach girls everywhere.
Don't give up until you are in bed, and don't go to bed until after 7am.  No girl wants to go home alone in Vegas.
Approach smaller groups of girls, cockblocking still exists with bachelorette parties and larger groups.
To get her from the club to your room tell her you want to gamble.  If you're at a different hotel than the one the club's at, tell her you are lucky only at your hotel.  Once you arrive at your hotel, if you are wearing a suit like you're supposed to, say you want to change real quick.  You should never have to leave the room again.
If your goal is to have a lot of sex with many random girls, I can't think of a better place to attain this goal.  Personally I hate the city after 2 nights because of how intense it is.  All the drinking, smoke, lack of sleep, and downright indulgence in all senses breaks a man down.  But it's the only place in the world where I expect to have sex within my first 48 hours there.  Think about that.
Read Next: The Pill That Cures Approach Anxiety